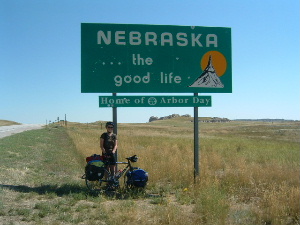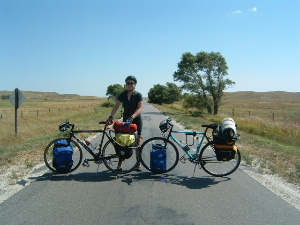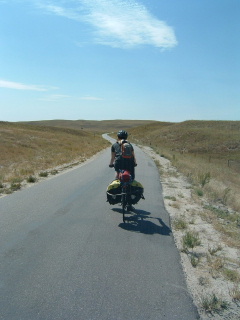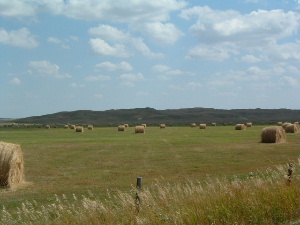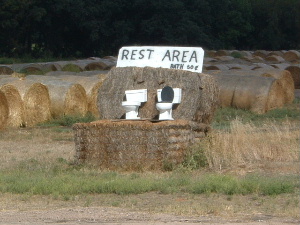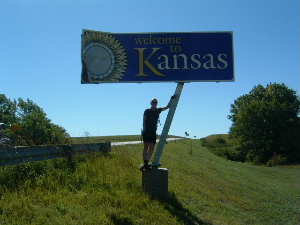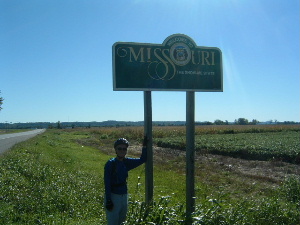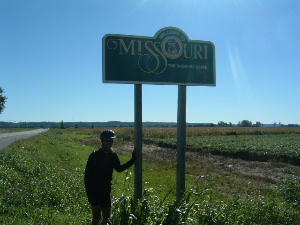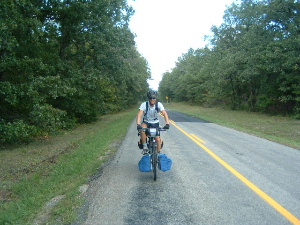 We visited Nebraska, Kansas, and Missouri as we biked across the middle part of the country.  Although not as intimidating as the Rocky Mountains, we did encounter some tough terrain as we pedaled through almost continous wind.  We skipped from small town to small town meeting some wonderful people and getting a taste of  "The Good Life" out on the prairie.

Enjoying the "good life" as we leave Wyoming and enter Nebraska.

Our favorite road to date:  This small county route south of Cody, Nebraska that was no wider than our bikes side to side.

It looks like such a nice, leisurely ride here for Jill.  What you can't feel from the picture is the 30 M.P.H. headwind.

One of many large fields of hay we would encounter in rural Nebraska.

Small town humor at its best.

Sticking with the theme of hay, a full moon rises over this farm field that was our camp for the night in Brownlee, Nebraska.

Enjoying the great weather along some small road that led us out of Nebraska and into Kansas.

And then after just a few days in Kansas we were on into Missouri.

Warm morning sun after our first frost of the year.  Town Park, Polo, Missouri.

Somewhere on the edge of the Ozark Mountains in central Missouri.  So many trees all of the sudden.