Over the Rocky Mountains

Bicycling through Utah, Colorado and Wyoming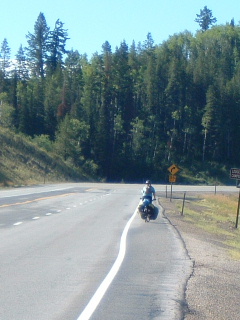 Tuesday, August 19, 2003

And after some deliberation, I've decided to take my computer on my bike trip. My bike trip! Sixteen months in the making, and now it looms like my 24th birthday, this Wednesday. I can hardly believe it. August heat pounds the pavement and my road bike is still cobwebbed after a summer of neglect. In two days it will be greased, tuned and ready to hit the road, and I can only hope the same of myself. In my week at home I've been bombarded - packing, visiting all the people I haven't seen a summer and won't see again until November, and begging my former place of employment to keep me in mind for a second chance. I have grown accostomed to being unemployed, but it still helps to maintain a flicker of hope that somewhere there still exists a living that's not attached to a meager and dwindling savings.

Either way, I only hit the saddle once, with my dad, while we were vacationing in Glenwood Springs, Colorado. We rented bikes at a dingy little hotel across the street from the Ramada - $10 for the day. They were generic, never tuned, rusty old exuses for hybrid mountain bikes, and I had to try out three before I found one with any kind of padding left on the screeching brakes. But they had two wheels and moved, and soon my entire family was wheeling up a towering red canyon as the Colorado River roared alongside. My two sisters, Lisa and Sara, and my mom turned around after nine miles and headed home. Dad and I kicked the pace up a few notches and streamed beneath I-70 until the canyon faded behind us. Along the frontage road the open plataue unfolded behind a series of foothills. We stopped in a little town called Dotsero. It was flat, rundown and reasonably uninhabited, and Dad mentioned that the town was disappointing compared to the sweeping beauty of the canyon. I agreed with him, but as we headed back, I realized that the abandoned cars and dusty trailers of Dotsero were my favorite part of the ride. Not because they compared to the beauty of the Colorado River, or of Grizzly Creek, or No Name Arch, or the other celebrated features of the canyon - but because they were out there, alone in the desert, unknown and undocumented, and we had "discovered" them, simply by riding our bikes to places we haven't been before.

Now that it's finally time to go, I feel anxious and yet pacified by the thought of the simple life of the cycle tourist. It's been nearly a year since my first bike trip, and yet it hardly feels like it. It seems so natural to just hit the saddle and go... This feeling begins ...

posted by Jill at 12:01 AM

Saturday, August 23, 2003

Here I am, day four of the bike trip, and still ache-free! This is thanks, in part, to the slow pace we've been taking, but the path has by no means been easy. Day one marked 30 miles up the steepest section of Interstate in the United States - I-80 up Parley's Canyon. We spent the night in Park City with Geoff's folks. Day two we coasted into Heber on U.S. 40 and met a nasty bout of afternoon thunderstorms, which we spent most of Day three running away from. (And we still got doused at camp.) We're in Roosevelt, Utah now, over 150 miles on the saddle, and we still have a little ways to go today. Feeling good - wish the weather has been a little better, but the rain has proved that my bike bags can withstand at least a few torrential downpours. Our fastest speed so far has been 38 mph, and our average is around 11 mph - even though we climbed both Parley's Canyon and Daniel's Summit (13 straight miles of continuous hard uphil.) I got one flat tire, the first day, and had to buy a new one in Park City as the sidewall had been torn out (quite the blowout, really.) Other than that and the thunderstorms, progress has been good.

posted by Jill at 2:14 PM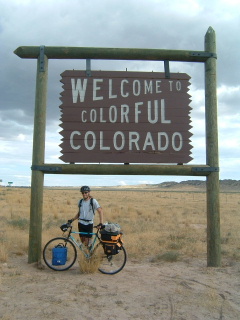 Tuesday, August 26, 2003

Today we arrived in Craig, Colo., over 300 miles along the remote and winding road. Before Vernal I was starting to get over-confident, because the first days are always the hardest, and the path through Utah wasn't hard at all. But Colorado has brought me back to reality, and I've had a few tough days to humble me about this whole bike touring thing. To start, I've consistently ended up with at least one flat tire every day of this trip. My heart skips at every bump I go over, because I think I'll have to stop and change another tube. The thunderstorms have subsided but the wind has picked up - and it never comes from behind. Since we crossed the Green River we have climbed and climbed and dropped and climbed straight into a fierce wind with an even fiercer sun pounding down on us.

I apply SPF 45 at least four times a day and still my skin is scorched - despite the heat I've had to resort to wearing pants and thick shirts just to block the UV rays. Yesterday proved to be my toughest day of biking, ever. We had 60 miles to go between Dinosaur and Maybell and absolutely nothing - not even so much as a tree - lay inbetween. So we pretty much had no choice but to go the whole way or spend a miserable evening frying in the sun. U.S. 40 turned out to be a veritable rollercoaster - steep climbs punctuated by steep drops, only to climb back up again. The entire time a prevailing eastern wind slowed our progress until my granny gear wasen't low enough for even fairly mild climbs - and not two miles went by that we didn't have at least one climb. My legs started to give out and my arms felt stiff. I spent the last 15 miles on the verge of tears, and my rage at seeing a new hill ahead propelled me onward, despite a diminishing energy supply. We rolled into Maybell just before dark, but the town proved to be an enjoyable and pacifying experience. We found a shady, grassy spot at the town park to camp, and ate a huge greasy dinner at the local resteraunt - the food was warm and abundant, and while it wasen't the best food I've ever eaten, it was the right thing at the right time; I can't imagine a situation where I would have enjoyed eating anything more. I woke up this morning with muscle pains, but I was well rested, and I was happy to know we only had 30 miles to Craig. Tomorrow we cut north for Wyoming, where the real wind and mountains are. I feel anxiety about crossing two major mountain passes, but I feel more prepared now that I've biked the windy, winding highway 40.

posted by Jill at 4:21 PM

Tuesday, September 2, 2003

From here I can almost see the eastern edge of the state - Wheatland, Wyoming - and the vast expanse of prarie that stretches across middle America. It's been a while since I've written a blogger post. Since I left Craig I've summitted three mountain passes, traveled over 300 miles and lived through the intimidating experience of crossing the Rocky Mountains on a bicycle. Don't ever let anyone tell you it's easy. After Baggs, Wyoming we climbed two passes in as many days and battled a brutal sidewind all the way to Laramie.

We crossed the Continental Divide at 10,000 feet and the Snowy Range at nearly 11,000 feet. The morning we climbed the Snowy Range southeastern Wyoming had dropped to record low temperatures. As we climbed into the clouds of the stormy morning the air hovered just above freezing and a stinging rain pelted our skin. We rounded a small lake at 10,200 feet and proceeded to roll across the eight-mile summit beside 12,000 foot peaks of jagged granite surrounded by glacial black lakes and windswept pine. It was spectacular, but harder to see as the fog thickened and the temerature dropped. We reached Libby Flats, the pass, just before 11 a.m. at 10,857 feet. At this point we had put on every piece of warm clothing we had to our name and still the cold wind cut through. And despite the rewards of climbing to the top of the world, the swift ride down to Centennial proved to be even more excruciating than the climb. The continuous 7 percent grade was merciless on my bike's burning brakes, and my meager coat and gloves proved useless against the windchill. Every part of my body went numb; my face froze in an experession of terror, and I screamed down the mountain until my knees buckled and my fingers turned gray. Centennial, at only 8,100 feet, was a welcome sight, and we ducked into a tavern for a warm lunch and hot chocolate. From there, the flat high plains rolled us into Laramie - though not without a fight. We fought a pervailing 20 mph crosswind out of the southeast with no relief. By the time we reached the small city the storm we had been running from all day caught up to us - and it poured. To compound things we got lost looking for a place to stay - impossible on a holiday weekend - and I lost a rear pulley which took over an hour to find and replace. It was nearly dark before we rolled into a KOA campground and crashed in frustration and exaustion as the rain pounded down.

From there we only had one 7,300 foot pass through the Laramie Mountains before the rolling plains of the Midwest, and I find myself sitting on the edge of this flat expanse right now. It's strange to think that I just biked over the Rockies and now I will be entering a part of the U.S. that I have never really seen -a part that I have simply flown over or driven over in one blind day (in North Dakota). Now I will ride my bike across the entire state of Nebraska and this fact seems a little more daunting to me than even the mountains. The mountains are my home- they're something I understand - and I've grown comfortable with skyrocketing elevation and a backdrop of solid granite. The soft, rolling hills of the prairie are so foreign to me that entering Nebraska is a little for me like rolling into the Arctic - a different world. We entered Wheatland yesterday for our first rest day through open corn fields and the sweet stench of fresh cow manure. Geoff said "I hope you like the scenery because we have about 1,000 more miles of this." I came almost 600 through the mountains, and this new challenge makes me even more excited for the road ahead.

Through the Rocky Mountains, we met so many great people that have shown us what hospitality really means. In Craig, we met a couple that took us in and gave as a warm dinner and shower based on nothing but a five-minute converstation sparked by our loaded-up bikes parked at a grocery store. They were school teachers, and biked cross-country on the TransAmerican trail with their daughter eight years ago. We were strangers but we had so much in common that we had a great night of conversation and a comfortable rest in a warm bed. The next night we rolled into Savory, Wyo. (pop. 25) to visit the museum. The museum was not only the biggest and most interesting small-town museum I have ever seen, but the curator let us stay right on the front lawn and even left the bathrooms open for us all night. These are just two examples of all of the great people we've met on our travels, and it's comforting to know that there are so many kind and generous people out there.

We've worked up several articles for this web site on our Rocky Mountain section.

posted by Jill at 11:00 AM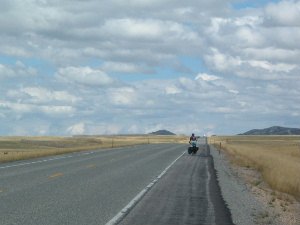 Wednesday, September 3, 2003

Well we finally reached the prairie today after many days of talking about it, and tomorrow we will be in Nebraska. The route we've been taking has been both beautiful and remote, and though traffic has been low, it's not without peril. Geoff has joked that we should map out our route for Adventure Cycling and call it "The West Nile Trail." We've spent the last five days biking through counties with the highest concentration of West Nile cases in the country, and now we're headed into Nebraska - the state with the most West Nile deaths. Haven't gotten it yet, but at night I have dreams about waking up deathly ill with no way to get to a hospital.

The day we left Wheatland we learned the consequence of putting too much faith in Rand McNally. We intended to make it a short day to Gurnsey by cutting across a secondary road. The unmarked road jutted in and out of the Laramie River valley over steep grades, and instead of crossing it, as the map showed, at mile 16, we reached a huge reservoir (not on the map) blocking the path. We stopped for a break at a campground with the intention of asking campers where exactly this road went. Though no one knew, one camper wouldn't shut up about rattlesnakes and mosquitoes. We pulled out our lunch and he kept coming over with new offerings - chairs, ice water, tuna. At one point he came toward us with a huge filleting knife, pulled a cantelope stashed in the tree we were sitting beneath, sliced it in half, and gave it to us with two spoons. He told us that we wouldn't find Grayrocks Reservoir "on any map," like it was some huge secret. He then proudly dragged us on a tour of his campsite - where apparently he's resided for more than two weeks "free of charge. Nowhere else in Wyoming can you camp on the lake for free." I guess he hasen't had much company in that time. We finally pried ourselves away and set out, questions unanswered, on the winding road. It cut too far to the east to get around the reservoir, petered out to gravel in some directions, and generally took the most roundabout, most hilly route to Gurnsey that is physically possible. We ended up biking 15 more miles that day than we originally thought we would. Oh well. We had taken an afternoon off in Wheatland, so at least we were rested. In Gurnsey we visited Mormon Trail historic sites and camped at a golf course. We're feeling good, and hope to do a couple of long days out on the Plains.

posted by Jill at 5:03 PM