East of the Mississippi River

Skimming the South in Illinois and Kentucky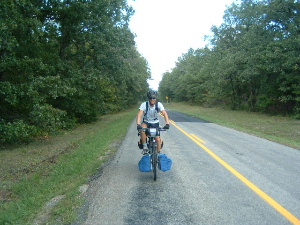 Friday, September 26, 2003

Well, we took a shortcut to Farmington along a busy (but shouldered!) multi-lane highway and arrived on the Adventure Cycling Route ahead of schedule. So it figures, I guess, that I would break a spoke on my way out of town this morning and have to wait until noon for the bike shop to open. Things could me worse. It's been nice to get to a town where people have heard of bike touring before. They don't laugh at us when we say we're biking to New York - in fact, they even act like they believe us! There's a bike shop in town, and even an actual bike route.

A friendly reader brought it to my attention yesterday that I haven't been too specific with the nitty gritty details of this trip. I guess that's because I usually just write whatever is on my mind when I happen to be sitting at a library, which only occasionally involves how long I've ridden that day or what kinds of foods I eat. But I have some time to kill today so I'll post all those questions that may be of some help to future and hopeful bike tourists.

What bikes do you ride?

Geoff rides a Raleigh Hybrid bike with 24 speeds. This bike used to belong to a friend of his, is at least 8 years old, hasen't had a parts upgrade ever, and he uses tires he bought used for $5. And who's had all the mechanical problems on this trip? Life ain't fair. I ride a 2001 Ibex Corrida light touring bike with 27 speeds. This has been a good bike. I'm not a gear head, but all the parts have stayed in good working condition since I bought it just over a year ago (I have ridden it over 3500 miles, 2400 of that loaded touring), which brings me to the next question....

Why do you get so many flats?

Much of this is a mystery to me, but I have concluded that my rims are just too narrow to handle the extra burden of 60 pounds of gear. See, my bike is a "light touring" bike - sacrificing speed for long-distance comfort, but still too lightweight for loaded touring. I use 700/25 tires, which are about as wide as I can go with my rims, but still quite narrow compared to Geoff's treaded 700/40 tires. There's a lot of junk on the road, and most of my flats have been puncture flats - everything from staples to thorns to glass to really sharp rocks. I run my tires at a low pressure to avoid these punctures, but that results in occasional pinch flats. When I got to Farmington I bought motorcycle-grade rubber tubes, so hopefully this helps a little bit.

How far do you ride each day?

After a 69-mile ride yesterday we finally kicked up our average to 50 miles per day for the entire trip. This is an ideal distance, I believe, for those who aren't in any hurry and would rather enjoy the places they visit than burn through all of them. We average about 5 hours of actual riding each day, and we take long lunches and try to arrive at camp early. I still get tired at this rate, but it's not the kind of exhaustion that will floor you every night.

How far have you come?

At 36 days, we're at about 1850 miles. We figure we have about 1400 left to go, give or take a hundred (since we don't know our exact route yet and we tend to ride a lot of extranious town milage)

What gear do you carry?

Everything you'd need to take an overnight backpacking trip into the woods - waterproof tent, lightweight sleeping bags, thermarest sleeping pads, camper stove, about a gallon of water each, and anywhere from one to three days worth of food. We each have two changes of bike clothing (I actually have three) and one change of regular clothing, as well as coats, waterproof gear and fleece pullovers. Weight was not a huge concern of ours, so we brought a lot of creature comforts with us. I have a pillow and my laptop computer, a small radio, headlamp, two books, plus all the toiletries you can think of. I'm carrying less than I did on my two-week trip last year and it still feels like too much.

What do you eat?

Our menu dosen't vary too much, but that's OK by us because we get hungry. Breakfast is either cereal with powdered milk, oatmeal or pancakes. When we stay in a town we will sometimes cook eggs. Lunch is always a bagel sandwich with tuna, tomato, avocado, green pepper, onion and cheese with chips and cookies. Dinner is either pasta with powdered pesto sauce and veggies, burritoes, veggie burgers or vegetable stir fry. For snacks we eat a lot of pop tarts, granola bars, trail mix and more cookies. Carbs are good. We've supplemented our dinners with packages which we have mailed to us every ten days containing cooking fuel, dried beans, small containers of pepper and salt, sugar, rice, couscous, granola, oatmeal and pancake mix. We buy the rest and carry it until we need it. We also eat out at pizza buffets when we find them.

Where do you stay?

Wherever we can, though we like to stay in places that are free. In the west this was mostly out in the open on National Forest and BLM land. In the midwest we found a lot of nice town parks to camp in. In the east it's going to have to be well-hidden in the woods on rural private land when we don't want to pay. We stay in hotels or RV parks every few days to get showers or to get out of the rain.

Where are you going?

If all goes well, Syracuse, New York, though we're not sure exactly how. If I can get my spokes fixed in time, we'll cross into Illinois today and stay in Carbondale. From there we'll follow the Adventure Cycling Route into Kentucky, cutting north just west of Lexington and heading up into Southern Ohio, following the Ohio River, cutting across the tip of West Virginia, heading north into Pennsylvania with a possible stop-over in Pittsburg, then more North until we get to Rochester, New York. The conditon of the roads and weather will still be a big deciding factor in our route.

Well, that's about all I can think of about now. As I write Geoff is plugging in the laptop to see if we can load our new pictures page. If we can, click on
"Photo Archive"
in this sidebar to check it out.
posted by Jill at 10:07 AM

Tuesday, September 30, 2003

Surpassed 2100 miles today to get to Dixon, Kentucky, where we are taking a noon break before heading on to our final stop for the day, wherever that may be. We couldn't have asked for more beautiful weather than we've had since we crossed the Mississippi. A massive thunderstorm blew through Friday night while we ate dinner in a park pavilian in Chester, Illinois. Flashes of lightning touched down on all sides, once every three or four seconds, and loud thunderbooms followed almost instantaniously.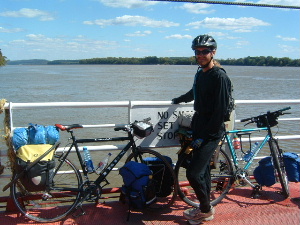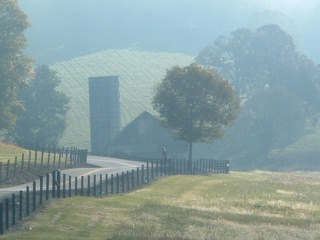 The closest bolts could not have been more than 100 yards away. The three-minute firework show was followed by a solid wall of rain that came down without warning - one second the sky was dry, the next filled with sheets of rain so thick that the surrounding park became a blur of light. It was frighteningly beautiful, and since that storm skies have been clear and temperatures have stayed in the lower-40s to mid-60s. People here call that "chilly," but the crisp, cool air even tastes like fall. The leaves of thousands of Kentucky hardwood trees have responded to the sudden drop in temperature, and the first hints of color are starting to show through a sea of green. You still have to squint in the early morning sunlight to see tints of yellow and orange, but Geoff says it won't be long now before the forest erupts in a blaze of red and orange. I have never seen the Eastern Fall. In Utah fall colors are sporatic - yellow aspen and specks of red and orange scrub oak. Most of the mountain trees are evergreen, so I have yet to experience such full-fledged fall color as I have seen in post cards. Since we entered the Adventure Cycling Route, so many more people recognize what we're doing and ask us why we started so late in the year. This is why - no season is more enlivening than autumn. I love the cool air and am excited at the prospect of change. I'm actually shocked that we haven't seen another cyclist on this, the major interstate of cross-country cycling. Locals tell us that it's just too cold, but it feels like the perfect time of year to me.

This route has been good to us. It took us away from the heavy traffic and U.S. highways we had stranded ourselves in while we crossed Missouri and put us back where we want to be - the boonies. The roads are more up-and-down hilly but the traffic is light, and the people of Kentucky have, so far, been very friendly towards us. There are still a number of vicious unleashed dogs - that number has upped a bit since we crossed the Ohio River - but as long as they don't bite me I can handle them (though I must say that it is very hard to really like dogs after a trip like this. I've been afraid of them most of my adult life and being a cyclist just cements my growing resentment of canines.) Still, dogs are a safer bet than cars, so I've really enjoyed having the Adventure Cycling maps to guide us through this intimidating section of the country. Pretty soon we will cut away again and head into Ohio, and from there, we're on the home stretch.

posted by Jill at 11:04 AM

Friday, October 3, 2003

November is here - or is it still October? The new month ushered in a cold front that has suspended itself over most of the eastern U.S. This temperature hit us with much more force than we anticipated, and, in short, we're freezing. Well - not quite. We had a difficult day yesterday - possibly, my most difficult day of the trip. We shot for 75 miles the day before and didn't quite make it before dark.

We pulled off the road and camped under some powerlines as the temperatures dipped into the low 30s, and awoke beneath a thin coat of frost. Because we landed about 10 miles short of our destination we had to go 69 miles to make it to Hodgenville, where we hoped to crash in a youth center we heard about. We bundled up as best we could and waited for the sun to come up, but the temperature barely scraped 55 all day, and coupled with a 15 mph headwind, the windchill made it feel like the low 40s. The headwind slowed us considerably. The first 20 miles were mostly uphill and our average didn't even break 8 mph before lunch. Then we passed into Eastern time zone, lost an hour, and had to burn the rest of the day just to make it to town by dark. I mean we didn't stop. We barely made it, and I felt wholly spent in a way I haven't yet, even the day we did Battle Pass or the windy days in Nebraska. Just the act of staying warm while pedalling and pedalling and not stopping for snacks took everything I have to give, and my body let me know. I was on the verge of shutting down, but happy to make it to town. Unfortunantly, we couldn't get ahold of anybody about the youth center so we ate at a Mexican Restaurant and headed for the county park in the pitch black of night. We got there the very second the maintenance man was locking the gate. He let us in, locked us in, and that was it for the night. We crawled into bed just as the frost began to set in, and by morning it was a quarter inch thick.

So, we took an easy day to Bardstown today - just 30 miles, for a total of 2,275 for the trip. This is it for us and the Adventure Cycling Route. We're on our own again, and maybe for the better. If we have no hopeful destination, we may be less likely to shoot for a 75 mile day when we only have 10 hours of daylight after breakfast and are facing a fierce headwind. On the downside, we'll have no more town parks or community centers that expect bikers. We actually met two west bound bikers on this trail. One was simply headed to Carbondale, Illinois. But the first biker we met, Jason, was actually on his way to the west coast! He started in Boston and was just over a third of the way through his trip when we crossed paths. He anticipates six more weeks on the road and plans to cross the Rockies in late October/early November. When we asked him how the weather's treated him so far, he told us he's "had a little bit of rain, enough to buy some rain covers" (for his bags). Turns out the clencher for purchasing rain covers was the night he spent in Virginia when Hurricane Isabel blew through. He managed to snag a place to stay for the night (in a trailer) but said that every time a gust blew through he was positive he'd be lifted off the ground. Just proves that not matter how crazy you are, there's always somebody crazier out there waiting to outdo you.

We rented a hotel room tonight in hopes of getting our core body temperatures back up before we hit the road north. Temperatures are 20 degrees below normal right now and expected to climb back toward normal over the course of the next week. So we're feeling optimistic. Pray for sun!

posted by Jill at 2:04 PM

Saturday, October 4, 2003

Geoff let me take a rest day today! Our first of the trip, and yes, we're still in Bardstown. When he realized last night that he could watch 12 hours of baseball playoffs by spending another day in town he had no problem with plunking down another $50 for a night at the My Old Kentucky Home Inn. So we're not doing any more mileage today, and I'll have a chance to check out all the historic stuff in this town that was incorporated in 1790. It feels strange to not hit the bikes even as the weather gets warmer, and I feel very lazy, but content. Sometimes cyclists need a weekend, too. Still, we did a short day yesterday and none today, so we may feel compelled to pick up the pace even after I struggled so much the two days previous. We'll see how it goes. In the meantime, thank goodness for baseball.

posted by Jill at 10:31 AM

Tuesday, October 7, 2003

We just crossed into Ohio and it couldn't have gone more smoothly if we had planned it. We broke away from the main route along a road that wasen't on our map, but turned out to be a winding, trafficless road down into a scenic canyon - fall leaves and everything. At the bottom we joined up with U.S. 52 and had a wide, smooth shoulder all the way across the Ohio River - the best bridge we've found yet. Now we're in Aberdeen, Ohio.

I built up so much stress about this crossing based on previous experience with bridges and traffic that it felt strange to pass beneath the "Welcome to Ohio" sign and not have trucks barrelling down on us. Such a huge relief.

I was even more amazed, though, by how bike-friendly Kentucky was. We managed to cross the state without a singe malicious driver incident. In fact, the locals for the most part went out of their way to be friendly to us. Even after we left the Adventure Cycling Route we skirted around Louisville, Lexington, Frankfort, and even Cinncinatti on rural roads with light traffic.

Those rural roads, however, did present one problem... more houses right on the route, guarded fiercly by - you guessed it - dogs. There are a lot of things I brought with me on this trip that I don't need, and if I could go back, I'd probably leave them at home. But there's only one item that I wish I haden't left behind - my Canadian bear mace. I know, I know. It's made for bears, not dogs. But it's a beautiful thought - turning to one of those snarling mongrels snapping at my legs and filling his ugly face so full of pepper spray that he wouldn't be able to see for a week. One can dream.

Other than the dogs, Kentucky was a fun state. Tobacco barns lined the route, filling the air with the sweet acrid smell of drying tobacco. Farmers took the time to stop along the side of the road and tells us how far back they last saw us - and their thick accents remind me how far I've come. The leaves are starting to turn and the river valleys are already full of color. The weather has turned a lot warmer, back into the 70s again, so we're a lot more comfortable during the day. Rain isn't forcasted for a week. Plus, both the Cubs and the Red Sox have advanced into the next round of the playoffs. All in all, a good week, I'd say.

posted by Jill at 2:05 PM