Cycle Touring in the Northeast

The Home Stretch Through Ohio, Pennsylvania and New York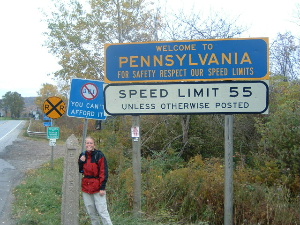 Thursday, October 9, 2003

Not much time to write today because we're trying to beat a rainstorm. Last night we decided to find some place quiet in the woods to camp. However, by the time we were ready to stop for the evening we were cycling through a busy residential area with no woods in sight. We came to a church with a sign the said "Candy Run Church and Campground." Knowing full well that it was a campground for organized youth groups, we pulled in a started looking for a spot in the area where we could get out of sight.

While we were deciding what to do, dozens of people started pulling into the church parking lot, apparently for a Wednesday night service. Since we had already been "seen," we decided to walk up to one of the church-goers and ask if we could stay for the night, under the guise that we understood this was a "campground." The guy we approached turned out to be the minister. He was reluctant at first, but seeing how stranded we really were he agreed to let us camp behind the meeting hall as long as the rest of the congregation thought it was OK. He went into the church to have the meeting and Geoff and I made dinner. After it was over he walked back to meet us. Fearing he was going to kick us out, I stood up quickly and walked over to him. "I almost forgot," he said. "We have a building over there you can stay in if you like. No one's been in there since summer, but it has showers and a bathroom." He gave us our own private room with a bed and even switched on the water heater for us. We were astonished that such a random stop could yeild those results, but grateful to the kind minister and his youth camp.

posted by Jill at 12:28 PM

Tuesday, October 14, 2003

I'll have to do another quick posting today, but I just wanted to drop a line from eastern Ohio. We are only about 20 miles from the Pennsylvania border right now, but a large cold front may prevent us from getting there today. (Exact words in the newspaper forcast: "We won't be able to dodge the rain drops today.") But we're not complaining because the weather has been remarkably good the entire way across Ohio.

Something that has surprised me is how hilly this state is. While my biggest revelation of this trip is just how not flat this country really is, central and eastern Ohio presented some of our toughest up and down stretches of this trip. Southern Ohio contained the biggest "mountains" we've seen since the Rockies, but the roads going through them followed gradual canyons with only an occasional climb over a small pass. Since we left the "mountains" and entered the area that Geoff said "will probably be the flattest stretch since Nebraska," we've encountered some really epic climbs. A typical 10-mile stretch contains at least two and sometimes four climbs that are up to a mile long and so steep that I'm forced to push as hard as I can in my granny gear. Then we scream down that same hill only to do it all over again within a mile. So our progress has slowed a bit, just when we thought we'd really be able to pick up that pace.

We've also encountered some difficulty in finding places to camp - not for lack of places in this state, but mostly because we've just had some bad luck. We can spend all afternoon cycling through thick rolling woods, but by the time 5 p.m. rolls around we're nearly always in a long extended residential area. On Thursday we bypassed 40 miles of national forest for private land surrounded by a huge, but restricted, state park. We ended up camping in the backyard "campground" of a crazy woman. I mean, she was completely nuts. Before we had time to decide whether or not we were stopping for the night, she pulled us into her house, past her $30,000 truck that she had just wrapped around a tree the night before, spouting off how her campground was "a little slice of heaven" while showing us her accident scars. She made us sit down at her kitchen table and drink water while she chugged several budweisers and smoked a joint, then gave us a 15 minute monologue about how terrible her life is. By the time she was through Geoff and I were in such a state of shock that we could do nothing but agree to pay her $15 and slinked back into the furthest corner of her yard, terrified that she would come back. Three nights ago we camped beneath buzzing power lines in a small strip of woods between two homes. The night before last we found refuge in a nice little campground called Tampan Lake, but last night we ended up on public lands only 50 yards from a "no camping" sign. The entire night I had dreams about getting kicked out, but we woke up early and slipped away without being discovered.

Hopefully, the camping situation will get better, but it's supposed to be cold this coming week. Wish us luck for this, our last 500 miles.

posted by Jill at 8:43 AM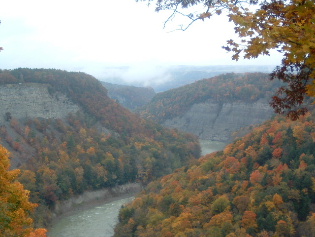 Tuesday, October 21, 2003

We sped through the rolling hills of the Fingerlakes region to get to Geoff's brother's house in Farmington, New York, early yesterday evening. Now we have one last 100 mile stretch to Cleveland that we want to burn out in one long day, so we took a rest day today. I can hardly believe there's only 100 miles left in this 3200 mile trip. So many things could happen tomorrow, but at this point - and I have to admit, for the first time - I truly believe I'm going to finish.

Not that I'm always plagued by doubt, but the last two weeks have pushed me to limits I thought, a certain moments, I wouldn't be able to surpass. Now that I look back - each state has presented its own challenge. There was a time when I never thought I'd make it over the jagged mountains of Colorado and Wyoming. Then I fought the relentless wind of Nebraska and Kansas, followed by the bewildering traffic of Missouri and Illinios. I thought for sure I'd be killed by dogs in Kentucky, only to be floored by hills in Ohio. The hills in Ohio were probably my biggest challenge. I was already starting to face increasing physical fatigue before I met the hardest sustained terrain of the trip. My legs felt like warm rubber going up the hills. I would shift into gear 1, stand and arch my back, and push with all the stregnth I had, going slower, and slower. Geoff, riding right on my tail, would remark about his surprise that I could possibly keep my balance at that speed. My head would start to spin and streaks of black would shoot across my eyes. If the hill went any further than that point, I would have to get off and walk. There's a lot of things a bike trip will teach you, but I've learned a lot about physical limits. I've taxed my muscles to a point where they don't even perform as well as they did when I was in Utah and pathetically out of shape. Now I demand even more of them every day and I think, quite frankly, that they've had it. I've come to this conclusion because slopes bring my legs to the point of exhaustion, but they rarely leave me completely out of breath. Geoff dosen't quite believe me on that point, but I think he dosen't quite understand.

Anyway, I fought this battle in eastern Ohio for three days before we rolled into Pennsylvania. We reached the drizzly, gray, unfairly cold weather of the northeast, but we also reached a much-needed point of relief - the Allegany mountains. I know, I know, it sounds strange. If you're burnt out on hills, why would you be excited to reach mountains? The answer is rivers, which roads are forced to follow when the "hills" - i.e. mountains - are too big to climb. River valleys are so flat and smooth that we coasted through norhtern Pennsylvania surrounded by all the spectacular colors of the Alleganies. Compared to Ohio, the pedalling seemed effortless.

We've had just one sunny stretch since we left Ohio - for just four hours, but the timing was perfect. On Friday we traversed Allegany National Forest, surrounded by uninterupted woods for the better part of 50 miles. The burning sun brought out a blaze of orange and yellow as far as we can see. We stopped in a little town called Marionville for lunch, a place where we arranged to pick up our last care package. With our usual delivery of beans and rice we also received an array of surprises from friends and family that lifted our spirits to a level I can only describe as Christmas morning. I want to say thanks to Geoff's mom, whose dontation allowed us to get out of the rain the following day, and to Monika, who sent us Slovakian delicacies that really did taste better when we used our fingers. But I especially want to thank Anna Skorut, whose package was the biggest surprise of all. We throughly enjoyed the soup when the temperatures slipped toward freezing at our National Forest campsite Friday night, and chocolate and vitamins are also a good pick-me-up for someone who is experiencing an energy crisis. That, combined with the sunshine, was a huge boost that carried me all the way to the New York border.

That border was a triumph in itself - our last state, our mountains crossed, our end in sight. Plus. the minute we reached the New York border the highway shoulders opened up into strips of pavement as wide as a single lane and haven't let up. It seems every street in this state has a wide smooth shoulder - which, after hundreds if not thousands of narrow misses with passing cars, brings a beautiful sense of calm and relief.

Thirty One Hundred miles down, just a hundred more to go. Two months down, one day to go. The weather channel predicts a high of 45 degrees tomorrow with a 30 percent chance of passing showers all day long. This is really the best weather we could hope to get in late-October New York. (We hear the folks in the western U.S. are roasting under 80 degree sunny skies right now. All I have to say to that is life ain't fair.) After that we have a lot of work to do to bring this web site up to code - we've really just skimmed the top of everything we've seen and learned on this bike trip, and we'd like to dig a little deeper. In this sense, my bike trip may be nearly over, but the aftermath is just beginning, and if past experience has taught me anything, I know there's always a whirlwind of discovery that never hits until after the adventure has passed.

posted by Jill at 7:33 PM

Thursday, October 23, 2003

At 12:47 p.m. this afternoon we arrived in a flurry of snow at our final destination. We're done. We made it! We rode the entire distance from the doorstep of our home in Salt Lake City to Geoff's parents in Cleveland, New York. Door to door - 3,209.7 miles to be exact.

We pushed on Wednesday for our first century and final day of the trip, but ran into some difficulties that left us 17 miles short. We gave it our best try, though. We woke up in the frozen black of early morning and hit the road out of Farmington as soon as it was light enough to see. The temperature at that time was a balmy 35 degrees, with a drizzling rain to boot. We had 10 hours and 34 minutes of daylight ahead, and we were determined to pedal all but 34 minutes - enough for about four bathroom breaks and one manic lunch. We were thoroughly soaked by the time the rain let up - about 10:30 - but at least the temperature climbed all the way to 41 (the high for the day.)

We were making good time and had covered 35 miles by 11 a.m., but we hit a 15-mile hilly stretch that slowed our pace to about 8 mph near Cato, New York. I got a little ways ahead of Geoff and didn't realized when he stopped

at the bottom of one of the bigger hills. I continued for two miles before I stopped to wait at an intersection. And I waited. And waited. Finally, a driver stopped to tell me he had seen Geoff stopped a couple of miles back, and asked me if I wanted a ride back to help him. I accepted, because I assumed he had a flat tire - and I was holding the pump and the patch kit. When we got back there Geoff told me that one of his shifter cables snapped, and since he didn't have a spare he was trying to rig something up - to no avail. We still had 50 miles to ride to our final destination, it was 2 p.m., and Geoff's bike was suddenly reduced to a 3-speed permanently stuck in high gear. After the driver took me back to my bike I had to wait for 20 more minutes as Geoff negotiated two hilly miles in his hardest gear.

At that point, there was nothing he could do to fix it, so he just decided to ride the last 50 miles as it was, knowing that the terrain would flatten out considerably. Still, at that point it would be nearly impossible to make it to Cleveland in the three hours of daylight remaining, so we decided to push for 35 miles to Central Square, where we could stay with friends and cycle the last 15 miles today. It turned out really well - we had a good dinner (finally - real New York pizza!) and a warm bed, and when we got up in the morning it was snowing.

We laughed, because it seemed so perfect. When we left Salt Lake City, it was 95 degrees under a brutal sun. We rode our bikes for two months, and arrived in a flurry of snow and a temperature 33 degrees - two extremes that perfectly reflect how much has changed over this 9-week trip. The most common exclamation we've heard when we tell people where we came from is "Wow, that's far!" They have no idea how far it really is. I know because I didn't understand. I've seen this country from the blur of the driver's seat. I've shot between the two exact points where I started and ended this trip in under three days. And I didn't always know - I didn't always see. But then I got my bike. I launched it at my front door. I pushed it over dozens of mountains and thousands of hills. I watched tens of thousands of cars stream past on a seemingly endless stretch of pavement. I fixed my gaze over the American landscape when there was nothing on the horizon but sand and sky. I crossed great rivers and greater mountains. I spent two months working, and I worked hard. And now I think I understand. This country is big. It's really big. And I'm small. Really small. And such a huge amount of space, empty space, seperates the entities of this world. But they're held together by a constant motion that binds even the slowest and smallest of us, and we never stop. Now the last two months seem like they went by in a whirl. Everything I saw and heard and felt starts to blend together. All the people I met across 3,200 miles now stand in my memory in one circular group. All the roadkill combines in my memory to form pungent smell. The bright blazing skies that one hung so overwhelmingly over my head now seem far away. I look back toward Utah and I seem far away. Three thousand miles away. Too far, they say, to ride a bike.

But I've learned from this trip that nothing's too big and nothing's too far. On Wendesday we passed through an area near Palmyra, New York, and it made me think of my Mormon pioneer ancestors who made a strikingly smiliar trip, backwards, 150 years ago. They were self propelled, carried all of their possesions, walked into the great unknown and never looked back. It would be amazing to make such a journey, and I feel like I've scrapped the edges of that experience. Accomplishing something as difficult as a cross-country bicycle trip makes me feel like I could do anything, and I feel a lot less afraid about the unkown than I once did. One thing's for sure though - my legs are ripped! I've got bulges where I never even knew I had muscles. They'll probably get flabby again pretty quickly without the 50 miles of daily biking to sustain them, and even still they need a good long rest, but I'll enjoy the little things that carry a lasting memory of my bicycle trip.

posted by Jill at 7:40 PM