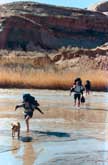 by Geoff Roes
I arrive at the trailhead at midnight, in the wind, and I sleep. Sleep comes lightly though because the wind never stops, not even in the morning when it's become so strong that it ruins my breakfast. Literally ruins my breakfast as my car door slams shut in a gust and knocks my strategically placed stove over to the ground, fried potatoes and all. Some foods can fall in the sand and still be eaten with some shaking, rinsing, or brushing, but on the very other end of this spectrum lie fried potatoes. No matter what you do to them the sand has ruined them. So it's a breakfast of trail mix and an orange and I'm off and hiking by about 10:00 am.
Spring Splendor
Dark Canyon via the Sundance Trail, April 2003
This is the time of year for brilliant wildflowers in the Utah desert
I am supposed to meet 2 friends here but they are nowhere to be found, and thus I begin my hike out over the mesa wondering why it seems to become harder and harder to gather together larger groups of friends for these trips. I settle with the answer of school and work, but also think some about slow changes in habits that take place over time, and eventually lead to a fairly drastic change in lifestyle. For me the habit has become these constant trips to southern Utah, but for my friends who have formed different habits it gradually becomes harder to get them out here. In the same way it has become harder to get me to do anything when I'm in town other than get ready for my next trip out of town.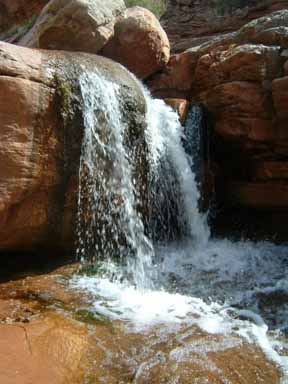 A sign at the Sundance trailhead warns hikers that the drop off the rim into Dark Canyon is very steep and for advanced hikers only. The problem with warnings like this is that you never know the ability of the person who decided to post this warning. Advanced to one may be impossible to the next but elementary to the one after that. So I continue on the mesa leading up to the rim, letting my thoughts wander, happy to finally be in a situation in which I can deal with the wind. 2 miles or so along the mesa brings you to the "advanced" drop with no chance of missing when you're finally there. Along the way you encounter a few times when you think maybe this is the "beginning of the end," but until you are certain, you can be certain that these aren't the drops the trailhead sign is referring to. The climb down actually turns out to be not so difficult, but when viewed from above has, I'm sure, convinced many hikers to turn back and head for the comfort of their SUV at the trailhead. 45 minutes of careful footwork though and you're down to the bottom. At this point it's really fun to look up at what you just came down, but try to do so in appreciation of your accomplishment rather than in dread of your eventual climb out.

In Dark Canyon now your possibilities are endless. A couple miles west will bring you to the mouth of Dark Canyon where it usually flows into Lake Powell, but for now, until wetter times return, flows directly into the Colorado River. It's interesting to stand at the mouth and imagine that less than 40 years ago you'd be looking at one of the largest rapids in the entire state of Utah. Now though, even with the lake level receded all the way back to Hite – 15 miles down the canyon – there are only memories of anything but calm waters existing here. Hiking through the desert I'm continually amazed with the time frame in which nature works. Slowly and steadily these canyons have formed over thousands and thousands of years. 40 years from now I might hike through Dark Canyon unable to notice a single difference, but no less will have changed than in an average 40 years in the history of this canyon. 40 years in the age of Dark Canyon is like the blink of an eye to you or I. In this regard then it becomes disturbing and confusing to stand at the mouth of the canyon and look out at what was a several thousand year old rapid until just 40 years ago… the blink of an eye to you or I.
Heading east up Dark Canyon from the Sundance trail quickly becomes a backpacker's paradise. About 1 mile from where the Sundance Trail joins Dark Canyon is the mouth of Lost Canyon. Here I find a comfortable camping spot and decide this will be the end of my pack carrying journey.

The next morning Lost Canyon offers some interesting exploration. I find the first mile and a half to be completely dry, but not completely uneventful. Ledge after ledge demands skill and savvy to negotiate and move further up canyon. After about 5 ledge climbs I find myself in a big wide open canyon. Quickly though the walls pull in and just as they do a small flow of water appears. The small flow becomes larger with large deep pools around every corner. I turn around about 3 miles up canyon but only because I've brought no food and am completely out of the water that I did bring.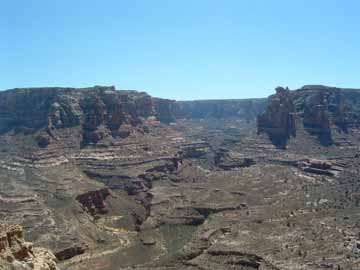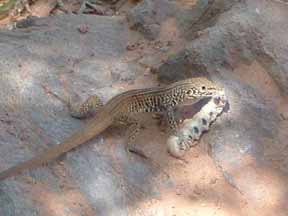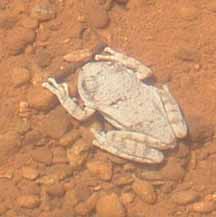 One of many waterfalls in lower Dark Canyon
Looking up Lost Canyon just above Dark Canyon
After returning to my campsite for lunch and some rest I quickly find myself eager for more exploration. This time I head east in Dark Canyon, encountering numerous small waterfalls and several unique canyon formations in which the water has eroded small vertical box-like depressions in the center of the canyon floor. I hike about 1 ½ miles east of Lost Canyon and explore a short side canyon to the north. The canyon climbs quickly with ledge after ledge looking like the end of the road for the average bi-ped. Amazingly though I can keep going higher and higher. Gradually any footprints disappear but I push higher. I get the feeling of being one of only a few people up in this part of the canyon in a very long time, and that motivates me to go even higher. Eventually an unconquerable 75 foot ledge stops me, but not before I've climbed about 2/3 up the entire depth of Dark Canyon.

The next morning I decide to pack up and head for home. That is we're leaving for Alaska in 3 days and it's time for me to give up my obsession with southern Utah.

The climb out of the canyon up to the rim is tough and long, but I willingly climbed down here so I lower my head and push my way back out, like I knew all along that I'd have to. I achieve the rim completely drenched in sweat, but in good spirit and not too fatigued. Turns out coming up is in some ways easier than going down.

Hiking back over the mesa toward the trailhead I keep wondering, why is my pack so heavy? Yes, I have enough emergency food for at least another day, but this weighs 3 pounds at most. I think though of the top compartment in my pack alone and realize that everything in there is a luxury item – all completely unnecessary. A small headset radio; a deck of cards; a headlamp; 2 books; a notebook; an extra pocket knife; 2 hand towels; a camera; enough extra batteries to power a small city with; and enough twine to last a lifetime. I think now of the minimalist approach to backpacking and how I could likely cut my pack weight in half if I wanted to. Sounds like a good plan but as I think more about it I decide that I don't want to.

I don't want to trade my dinner of sautéed fresh green pepper, zucchini, garlic, carrot, and onion over a bowl of curried cous-cous topped with fresh tomato for a freeze dried version of the same dinner. As simple and light and satisfying as packaged, dried backpacking dinners may be they still are a far cry from a similar meal prepared fresh, or for that matter even a less exciting meal prepared fresh. I'll always take a simple dinner of a fresh made bean, cheese, and onion burrito over the fanciest, lightest, most expensive, freeze dried, organic, grade A, foil package of bull shit money can buy. Yes, even at 3 times the weight and 3 times the preparation time. Real food just tastes better and more completely satisfies my depleted body. Why should I sacrifice satisfaction for a lighter pack? And thus all the luxury items found in my pack.

I like reading and writing and listening to the radio and playing cards, why should I pretend that when I get out here in the wilderness I'm not going to want to do these things? I don't go to the wilderness to escape from my civilized habits, but rather to find new and unique ways of bringing the 2 together.

Every now and then when I'm out in the canyons at night I'm able to tune in a baseball game on late night AM radio. Down in the Utah desert it's usually the Rockies or the Diamondbacks, sometimes the Giants or Mariners – almost always a game I'd otherwise care very little about. To lay out here though under the towering spires of redrock sandstone, tucked neatly under a row of cottonwoods, deep and essentially lost in one of a thousand canyons – all so similar and yet all entirely different – that define southern Utah. To lay here, in this maze, and listen to the Cubs vs. Rockies game fade in and out of reception as I did last night, this is why I carry the extra weight in my pack. The Cubs, who might actually be for real this year, have built an 8-1 lead going to the 8th inning. This is Coors Field in Denver though where 8-1 leads disappear in an instant. Having held the Rockies potent offense to 1 run over 7 innings, even the Cub players must be realizing that the Rockies are due for some big innings. 2 runs in the 8th cuts the lead to 8-3. By the end of the 9th both offenses have exploded and the game ends in an 11-7 Cubs victory. Never quite the exciting down to the last pitch game I hoped for, but as I turn my radio off and welcome sleep I can think of no other complaint. I briefly notice sore hips and shoulders, but as sleep takes over I find myself thinking of how satisfying it feels to be sore.

A couple of the hundreds of frogs and lizards I saw while in Dark Canyon
This trip was a nice taste of Dark Canyon. As I drive north back to Salt Lake I begin daydreaming of a longer trip down here sometime. Woodenshoe Canyon, Trail Canyon, Peavine Canyon, and all the way out Dark Canyon to "The Notch" would be possible exit points for an extended backpacking trip beginning at the Sundance Trailhead. Yet another adventure to add to my Utah list of things to do.