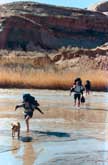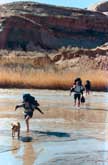 A Winter Getaway

Bear River Yurts, Winter 2004

by Geoff Roes

In the northern Uinta Mountains along the Wyoming/Utah border, just off the Mirror Lake Highway you'll find a network of wonderful cross country ski trails.  What makes these trails even more enticing though are the 4 Yurts spread throughout the trail system that help create an area perfect for an overnight winter trip into the mountains.

We're not talking traditional winter backpacking that some may be used to.  No digging snow caves to keep from freezing to death, no sleeping with water bottles in your sleeping bag to keep them from freezing, and no constant concern about sweating too much while hiking knowing that you'll shiver your entire evening away if you allow your body to get just slightly wet.  Instead you have winter backpacking where you are rewarded in much nicer ways for your work getting your pack several miles into the wilderness.  We're talking propane lights, stove, and heater;  a woodstove and an entire season's supply of firewood; bunkbeds with minimal padding; and a small but adequate outhouse.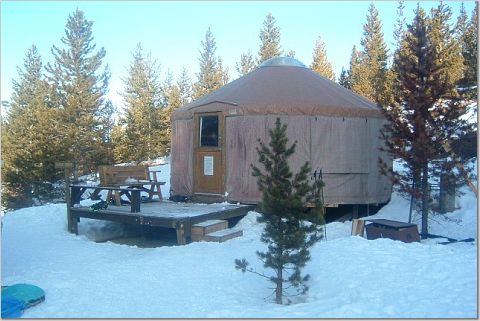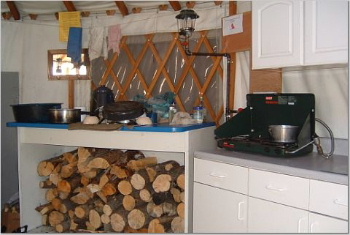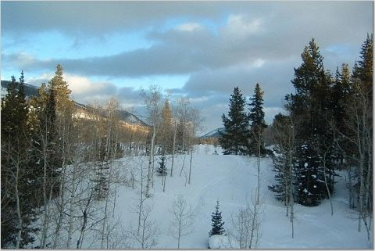 The Ridge Yurt is the farthest from the trailhead and provides the most solitude

At various points throughout the winter of 2004 I spent time at 3 or these 4 Yurts that are maintained by the Bear River Outdoor Recreation Association (BRORA).  The Ridge Yurt was my favorite because it is the most secluded, but if you're looking for a quick and easy getaway try The East Fork Yurt, as it's only a 45 minute ski or snowshoe from the trailhead to your weekend "home."

With the comforts of this backpacking trip you'll find yourself  wishing it were always this comfortable and easy.  This was the only winter backpacking I did this year, and I have a feeling it's going to be hard to adjust to the hardships once I do go again without the comforts of a yurt.  I guess this would be the only complaint I could find about taking a trip to one of these Yurts: This type of comfort does seem to be making me a little soft.  Or maybe I'm just getting old.

The good life: more counter space than my kitchen at home!

The only catch to this great winter getaway is that it's not free, but it is very affordable and very worth the price.  For the winter of 2004 the rates were $25 per night Sunday - Thursday and $50 per night on Friday + Saturday.  You can comfortably fit 8 people, but it's cheap enough that it's a great getaway for 2 people as well.  If you're looking for a last minute winter trip you better have some time to spare during the week.  Weekends seem to fill up several months ahead.  Weekdays however seem to be very easy to reserve at the last minute and are really the best time to be up there.  On a Wednesday night trip to The Lily Lake Yurt in January we saw no one else the entire time we were there! 

Breaking a new trail south of The Ridge Yurt.

If you go:
Not only do you need to call at least a few days ahead of time to reserve a yurt, but you'll need to be a member of BRORA ($15 for one year membership) to get a permit.  If you're going for the first time I would reccomend planning and reserving your trip a minimum of a few weeks ahead of time.  This gives you time to get all the permit info and maps they'll send you in the mail.  If your're going for a second time you can pretty easily get away with reserving a few days ahead of time and they'll just fax you the permit or allow to pick it up in person on your way to the trailhead.  For more information, or for details about obtaining a permit to enjoy this awesome winter getaway call The Evanston Recreation Center at: (307)789-1770, or visit their website at: 
http://www.evanstonoutdoors.com/
Late afternoon at The East Fork Yurt.