A Place To Yourself

Swett Canyon, March 2004

by Geoff Roes

Swett Canyon is located in Southern Utah between the Henry Mountains and Lake Powell, and makes for a wonderful weekend get away.  For us it was a perfect first backpacking trip of the year, and nice reintroduction to the beauty and splendor of Southern Utah after almost a year travelling to other parts of the country. 

Out guide book told us we'd find some nice camp spots 7.5 miles down the canyon where it dumped into Lake Powell.  Being the wettest time of year in the Utah Desert though, we only made it about 5 miles before a narrow section of canyon with waist deep (or deeper) pools of water caused us to set up camp on a small, but very comfortable ledge above the canyon bottom and call it home for the night.

This was the first really warm spell of the year and we sat up until 9:00 pm just taking in the warmth.  Okay, so it was only about 40 degress by that time, but after months of nights below freezing it felt really nice.  Just after 9:00 a full moon came up above the canyon walls and brought with it a light that illuminated the rock in a splendid way.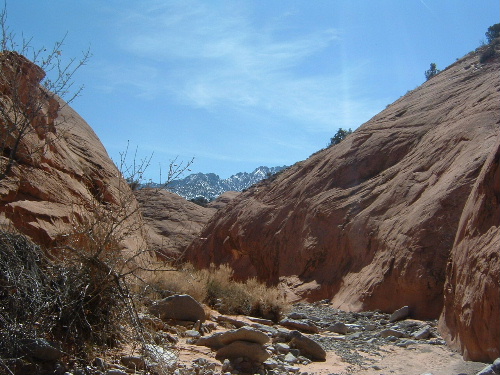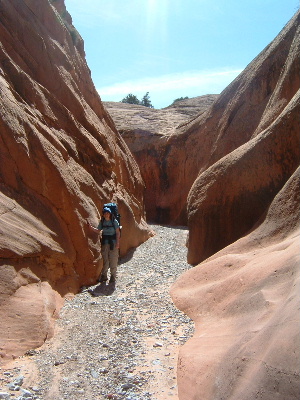 The hike itself was most amazing for it's diversity.  The first two or three miles we found ourselves in a very shallow, but quite narrow slickrock canyon.  The walls curved smoothly up away from us and I found myself on several occasions daydreaming about riding my mountain bike up above me on the canyon rim.

Suddenly though the canyon opened and deepened all at once.  The smooth slickrock gave way to a rugged, harsh walls and the depth went from 100 or 200 feet to 4 or 5 times that depth. 

Slowly though, the now wide and deep canyon began to pinch back in on us.  The depth remained or grew deeper as we got back into a narrow, closed in canyon.  As this happened we found our first water and took some comfort in the fact that we no longer had to try to ration the water that we had carried in our packs.

Jill enjoys the shallow, narrow section of the Canyon

Continuing down canyon we eventually came to a spot where the floor began to form in layers of rock where it seemed easiest to stay up above the bottom layer and work our way down canyon that way.  Finally though we had no choice but to drop back to the bottom, but just as we did we found a pool of waist deep, ice cold water waiting for us.  The pool was only about 15 feet long, but we decided agains the cold and wet of continuing and went instead with the comfort and relaxation of finding a home for the night.  Back canyon about 50 yards we found a great little ledge to set up camp on and thouroughly enjoyed our first night out backpacking since last summer.  The weather was great, the canyon was ours, and we couldn't have been happier.

The Henry Mountains in the distance as we hiked up the Canyon on the second day.

Favorite thing about Swett Canyon:  The Solitude.  Not only did we see no one in our two days in the canyon, but there was little sign that anyone had been there in a long time.  Every now and then there was a faint footpath in the sand but never any signs of recent human travel.

Least favorite thing about Swett Canyon: The hiking surface.  This isn't a strenous hike at all (with the exception of a steep 100 foot climb to get back to your car at the end of the hike the canyon is virtually free of significant drops), but the loose stone and sand of the canyon floor make this hike quite hard on your feet.  I highly reccomend wearing footwear that has been tried and found to be true to your feet.  Bring some band-aids and/or duct tape to stop blisters before they get too bad.  It's a short hike (15 miles round trip is you go all the way to the lake) but your feet will feel it by the end.