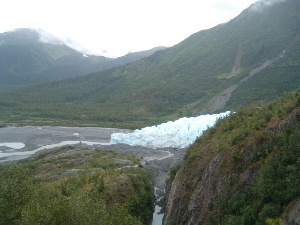 Kenai Peninsula Revisited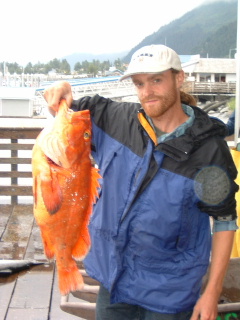 After 9 days on the Kenai Peninsula we headed back to Anchorage so Gretchen and Cathy could get on a plane back to New York.  Two more days in the big city was more than enough so we turned south and headed back to the Kenai Peninsula.  We felt like there were a couple things we still needed to do down here and 9 days the first time just hadn't been enough.  Our first order of business was a backpacking trip on the Resurrection trail.  Our plan was for 7 days but our trip was shortened to 5 because the last 20 miles of trail was overflowing with bear activity.  With backpacking finished though it was then time for some fish activity.  We booked a full day salmon / halibut charter in Seward and took to the seas with high hopes for packing our freezer full of fish.  We caught our limit of both salmon and halibut so quickly that we even had time to stop on our way back and catch 9 black bass and a yellow eye rockfish.  We head off the Peninsula for the second time with memories and fish to last us  years.

Jill backpacks on a picture perfect day along the first stretch of the Resurrection Pass trail.

On day three of our hike we reached the pass.  You can't read the sign but it says, Resurrection Pass, elevation 2,600

Clouds roll in over Trout Lake.  Despite the name we didn't have much luck as we rowed up and down the lake trying our luck for rainbow and lake trout.

A mischevious juvenile grizzly bear trolls for discarded salmon pieces along a heavily fished stretch of the Russian River.

An angry marmot stands guard near the top of Exit Glacier in Seward.

In case it isn't clear through the thick cloud cover, Chris points out the Harding Ice Field of Kenai Fjords National Park.

The terminus of Exit Glacier.

Nick, the deckhand of our Seward Charter Boat, holds out Chirs's prize catch - a poisonous shark.

Nick fillets black bass on our return from a busy day of fishing.

Chris holds up a couple of nice halibut. In all, we caught nine salmon, six halibut, nine black bass, and one yellow eye rockfish.

Geoff holds up his prize catch of the day - a 60 to 70 year old yellow eye rockfish.

The boat's silver salmon catch.

A bag of salmon fillets reward a long day of fishing outside Resurrection Bay.

Exit Glacier viewed from the bottom of the Harding Icefield trail.