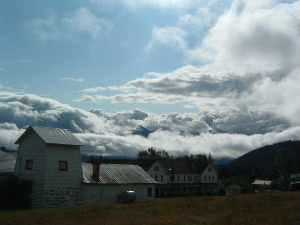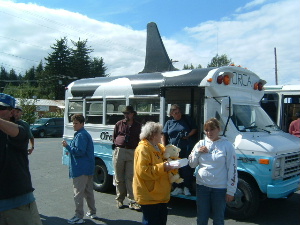 Yes, that is Chris with no hair.

Our first campstove wild blueberry pie.

Geoff fishes for pike at Deadman Lake.

A grizzly greeted us on our brief return to British Columbia as we headed for Haines.

The view from atop Mt.Riley, the tallest peak on the Chilkat Peninsula.

A warning for hikers heading up to Mount Riley.

An early morning scene at Fort Seward in Haines.

Dave, our boss for a day, points to the take-out for the following day's float trip down the Chilkat River.

(Notice Chris and Geoff looking upriver at the scenery, as this is the umpteenth time they've been told where the take-out is.)

Geoff guides tourists on an eagle-watching float trip.

Chris's expert rowing skills came in handy on the Chilkat River.

Chris drives tourists back to the ferry on the "Orca" bus.

Yes, Chris really did drive this bus.

Jen gears up for the 4 1/2 hour ferry ride to Juneau.

Geoff and Chris kick back in the Solarium.

The sun sets over the Inside Passage.

Salmon spawning in a small river outside Juneau.

A small boat harbor at Auke Bay in Juneau.

One of the many lighthouses along the Inside Passage.

Jen and Geoff relax at the ferry cocktail lounge.

We spent our last several days in Alaska along the Southeastern Coast experiencing the towns of Haines, Juneau and Skagway. Along the way we cooked three campstove blueberry pies, got jobs working as river guides, saw three bears, spent 12 hours on a ferry and through it all dealt with the seemingly continuous southeastern rain. In all, a unique way to end our time in the 49th state.