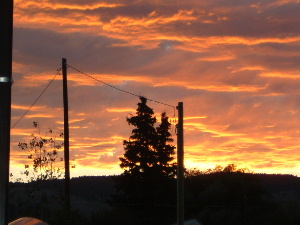 though and after more than a week of babying the van through some over-heating problems we were suddenly finished with our adventure. It felt good to be home, but it also felt very hot.  After a summer of  cool Alaskan air, 95 degrees in Salt Lake felt more like 105.

The first of a handful of problems we would have with the van in the last several days:  Burnt wires and paper, signs that we nearly burnt the van to the ground while it sat at the Haines ferry terminal.

Enjoying a herd of buffalo along the Alaska Highway.

Jill takes a stroll on the "boardwalk" at the Liard River Hotsprings, somewhere between Alaska and Utah.

We decided this one was too diffucult for us to fix ourselves.  Blown water pump near Fort St. John, BC

One of our last camping spots.  A wide open farmfield out on the Canadian Prairie south of Edmonton.

The van rests in the afternoon heat near Butte, Montana.

Sunset on the last evening of our trip.  Butte, Montana.

After a few days in Juneau we returned to the van in Haines and ferried over to Skagway. One day in Skagway and we were officially on our way home. We didn't exactly rush home but after the relaxing pace of the rest of our trip it did feel like it at times. Steadily we stumbled toward Utah