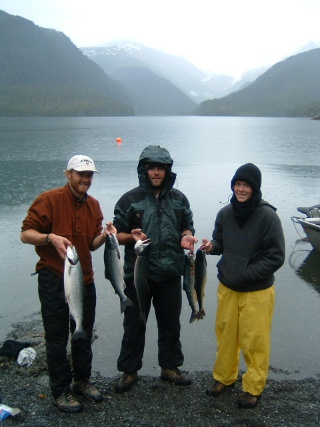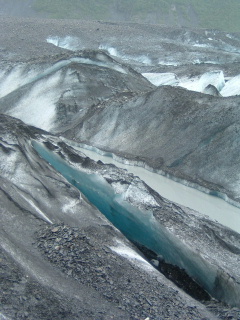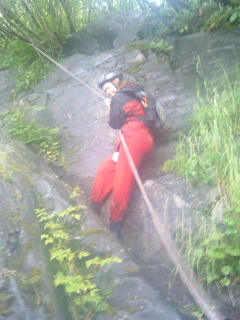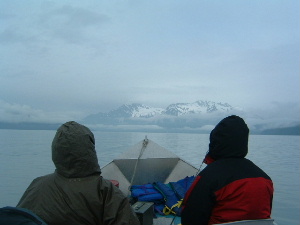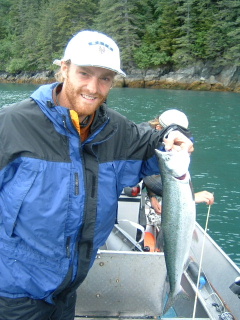 Geoff, Chris and Jill show off the day's salmon catch, enough for dinner and a couple pounds in the freezer.

The view from Thompson Pass above Valdez, the last blue sky we'd see for several days.

A fjord cuts through the Valdez Glacier.

Bushwhacking through the Brazilian Rainforest.

Jill stands on the Valdez Glacier.

Jill rappels on the Valdez Glacier trail.

Heading out to sea aboard our rental skiff.

One of hundreds of waterfalls dropping into the Valdez Arm.

Geoff holds up the first sea catch of the trip, a tiger rockfish.

Chris shows off his first catch, a king salmon, and our biggest fish.

A calm night at our island camp in Jack Bay.

Three of the six different kinds of fish we caught: an unidentified "frog fish" (top left), a king salmon (top right), and a yellow-eyed rockfish (right).

After leaving central Alaska we headed south to Valdez for several days of clouds, rain, cold, and a really good time.  We explored numerous glaciers in the area, and for two days rented a small boat and hit the sea for some fishing and camping.  We caught 6 different kinds of fish (19 total fish) on what turned out to be one of the most memorable experiences of our entire summer.  After a few days we even found comfort in the continual rain.