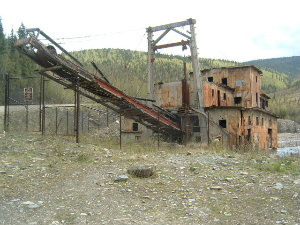 Looking back at Dawson City after crossing the Yukon River via Ferry.

Historic oil dredge near Boundary, Alaska.

Jen and Geoff explore the inside of the dredge in an effort to figure out how it works. After much observation, we figured out that it sucks stuff out of the creek and finds gold. Brilliant.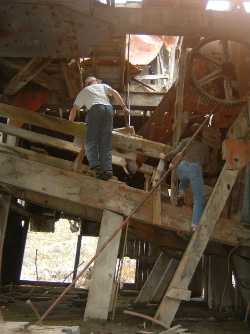 The hub of downtown Chicken, Alaska.

Sunset just north of Fairbanks along the Dalton Highway - one of the last that we would see.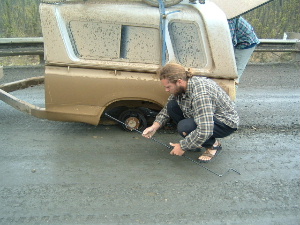 Our first mishap along the Dalton Highway, a 414 mile stretch of primitive road that leads to the Arctic Ocean oil fields - wheel falls off the trailer.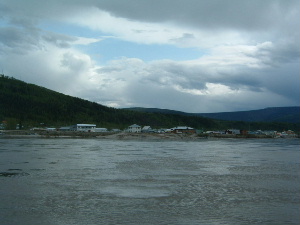 A grizzly bear near the Dalton Highway.

On wet gravel roads, the van and trailer get a new paint job - muddy brown.

Jen and Chris at the beginning of the Arctic Circle.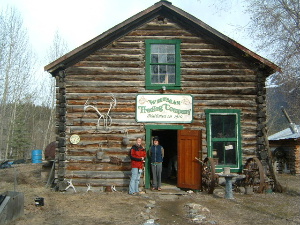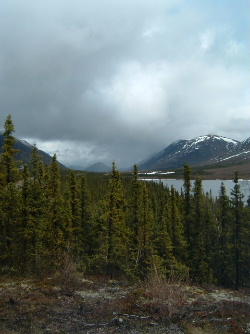 A stormy afternoon on the southern end of the Brooks Mountain Range.

The Wiseman Trading Company, stocked with antiques and much-needed snack food. Their specialty is handmade Arctic Rock cards (below).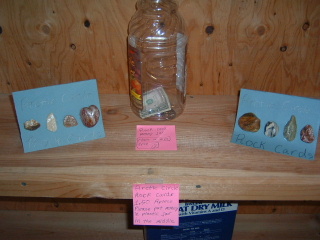 Also in Wiseman - the "White man's totem pole"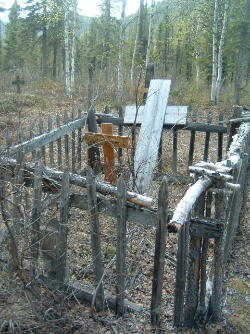 The ghosts of the Koyukuk Gold Rush rest in the Wiseman cemetery.

A  quiet moment at camp on the Middle Fork of the Koyukuk River, near Wiseman.

A dall sheep at Atigun Pass

A caribou runs on the open tundra.

A musk ox grazes near the Sagavanirktok River.

Chris observes the ice-choked Sagavanirktok

Finally, we reach the Arctic Ocean at Prudhoe Bay, our northernmost destination.

Caribou graze on the tundra, framed by the Brooks Range. Spring has not yet broken.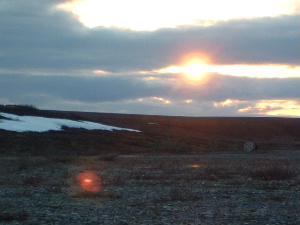 The eerie light on the horizon in the moments between sunset and sunrise, 1:30 a.m.

An avalanche blocks the road below Atigun Pass.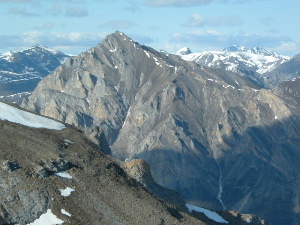 The view from atop Sukakpak Peak.

The Bettles (right) and Dietrich (top) rivers converge to form the middle fork of the Koyukuk

A porcupine hangs just south of the Arctic Circle.

Chris and Jen hike toward Sukakpak peak.

Our first two days in Alaska brought  us quickly to Fairbanks, where we grubbed up and turned north. Parallelling the transalaskan pipeline for 500 miles, we encountered rain, snow, hot, cold, a 4.3 earthquake, swift rivers, an avalanche, flat tires, floods, grizzly bears, caribou, muskoxen, dall sheep and eventually the Arctic Ocean at Prudhoe Bay. On our return to Fairbanks we enjoyed our first backpacking trip of the summer in the remote and wild Brooks Range. In all, the most memorable section of our trip so far.