Into Another

Salt Lake to Prince George, British Columbia: Weeks 1 and 2

Friday, May 2, 2003

Now just moments away from hitting the road. amazingly the van actually seems ready to go. in the last two days: oil change, air filter change, crankshaft filter change, spark plug change, dirstributor cap and rotor change, thermostat change, and i think much more but i can't even recall anymore. the test drive went ok. we figure now that the van and trailer made it a few miles to the local gas station it should have no problem making it to alaska and back. seems like a million pounds of stuff in the trailer but all stuff that will make for a more enjoyable trip.

and thus off to seattle...

posted by Geoff at 11:56 a.m. on May 2, 2003

Tuesday, May 06, 2003

Wow. We are right in the heart of this whirlwind trip. One week in, and we're already in Seattle. I know to most people, traveling from Salt Lake City to Seattle in five days seems slow, but to us there has been no break in activity. And no break in the rainy weather, either, until we got to Seattle, where everything is clear skies and sunny. Imagine that! We had a great mountain biking trip in the Cascades yesterday. I only fell on my bike twice, and I'm getting much better at negotiating the slick single track (there's something about beginner roadies getting on mountain bikes that leads to great crashes) Now we are visiting Chris's sister in the heart of Seattle. We walked around Pikes place market and ate at one of what must be 7,000 Thai restaurants in town (and most possibly the best.) Our internet access has been scarce, but we hope that will improve with a new cell phone connection we are setting up today. Please check back often! We posted our first photos of the trip. They can be found on the photo link from the road trip page, which is
www.biketoshine.com/leavingtown.html
Thanks to those who are picking up on our postings. We're really excited about our web page and hope to improve it as we go.

posted by Jill at 10:38 p.m. on May 6, 2003

Friday, May 09, 2003

One week behind us now, and for just cruising around with no agenda quite a lot has happened in one week. First it was putting new shocks on the trailer 30 miles out of Salt Lake. With each bump or any gust of wind the trailer would begin swaying side to side, stopping only when I was savvy enough to drive in a perfectly straight line for hundreds of feet. The slightest sway of the van and the trailer would be off on another furious ride of it's own. Yes we had tested the trailer out, but never with a load in it. Now suddenly we were cruising down the highway at 65 mph with hundreds of pounds of gear. 2 hours though and we had new shocks and were back on the road.

Slowly from Utah we made our way up into Washington. Spent 2 days around Leavenworth, WA. We were going to do a river trip in Leavenworth but it was about 45 degrees and the water was running at about 35 degrees. Decided to save hypothermia until we get to Alaska. We did a bike ride in Fruend Canyon instead. It was so nice after 3 days of driving almost constantly to get the bikes off the rack and get out and do something a bit more active.

Then on to Seattle. The entire set up of this trip encourages us to stay away from cities. Everything we own is packed into a van and trailer, neither of which lock, with $2000 worth of bicycles sitting on top. Our ride measures about 30 feet in length and 9 feet tall. And we're heading to Alaska, that is to say that we're not exactly out here trying to experience urban culture in any way. Why not one city though? So Seattle it was. We found a safe, quiet place to park the van and brought all the bikes in to Chris' sister's apartment with us and thus we were ready to take Seattle by storm. OK, not exactly. None of us really know what to do when we are suddenly thrown from the wilderness into a large city. It's such a strange contrast to suddenly be faced with. For the first several hours in Seattle we just sat around lazily reading or watching TV. I got the feel that none of us really wanted to have to try to figure out what to do. We got moving eventually though and ended up seeing and doing quite a lot. After mostly just running errands the first day (with some sightseeing mixed in) we had dinner and hungout with an old friend from Salt Lake (good to see you, Courtney J). Day three in Seattle took us to a Mariners game against the Yankees. The fierce rivalry of these two teams never really came out though as the Yankees cruised to a 7-2 victory. It was a fun game though. So different than the padres vs. dodgers game that we went to in San Diego last month. Instead of watching no-namers and rookies we were watching thoroughly seasoned superstars and future hall of famers. In this respect though I kind of enjoyed the padre, dodger game more. The young, homegrown players seem to be easier to relate to and far easier to root for. On the other hand I find myself rooting against the superstars with names like Ichiro, Giambi, Clemens, and Jeter. While watching the game the other night I couldn't help but see everything that is wrong with baseball as compared with baseball of 50 years ago. As I looked out at players I kept expecting them to appear as the silhouette of a dollar sign rather than as an individual that I could in any way relate to.

And now though we have left Seattle and headed even further west, out on the Olympic peninsula. So much of what I see here reminds me of where I grew up in upstate New York, just more mountainous here. It's a great place to be. It is a chilly damp morning but the sun is starting to break through the trees and it looks like today will be a great day to venture further out onto the peninsula. We now begin what will feel like the real beginning of our journey as we leave the crowded Seattle area and head on to the north without any real plan in mind from here on out.

posted by Geoff at 1:15 p.m. on Friday, May 9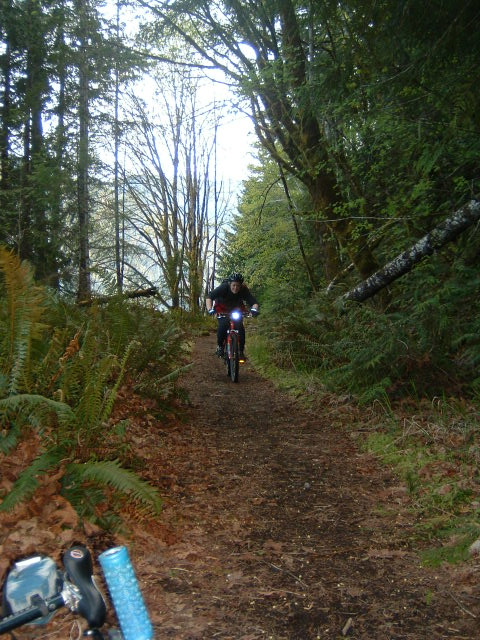 Sunday, May 11, 2003

I feel bad that my postings have been so sporatic. We are working to improve that, but for now I think we need to enjoy our time away from technology, from the mass media, from the things that keep us anchored to the mediocre. Every day we wake up beneath of jungle of moss-covered hemlock, ferns and ivy, anticipating nothing but the simpleness of living another day. Our movement has been slow. We crossed over onto the Olympic pennensula on Thursday and were happy to explore small sections of it on our bikes rather than circle the entire 8-hour loop in a day, as many have done. We took a ride up to a 1,600 foot peak, overlooking the sprawling mass of deep green, the thin strip of the Pacific ocean, and the Seattle skyline in the distance.

The next day we did another ride in the national park along a turquoise lake, following the abandoned path of an old railroad. Movement on a bike is so much slower, but allows for so much more awareness than movement in a car, and I hope that I can log in more time in the saddle than I do in a car on this trip. We'll see, as Alaska is still very far away. Jen finally broke away from her sweetie pie and joined us on Thursday, so we're truley a group now. Today we are headed into Canada, which Chris has been so anxious about. Every day for the last four days he's asked us if we can go to Canada today. I'm excited too, but I like the act of slowing things down. Simple movements.

posted by Jill at 3:18 PM on Sunday, May 11, 2003

Wednesday, May 14, 2003

I don't know that I've ever been this far north before. The weather up here is cool and calm. We're on the dry side of the mountain now, rolling over mountain, river and canyon on our way to Alaska. Vancouver was a strange-looking city if I've ever seen one. It looked like something that was trying to be futuristic 30 years ago, thereby become more outdated than the skylines of other cities its size. But the 2010 Winter Olympic banners everywhere were nostalgic. Being a Salt Lake native, I almost miss the 2002 euphoria that has all but faded since the games left my fair city. Vancouverites have seven years of hype to look forward to, and I have a summer of bears and mosquitos to avoid. But traveling is slowly becoming easier. I freak myself out sometimes about being unemployed, but it is short lived, and I find it easier to relax as the twilight stretches out beyond a horizon of endless pine, and daylight grows longer and longer everyday. We've added some more pictures from our latest bike ride. They can be found at http://www.biketoshine.com/slc2seattle.html and http://www.biketoshine.com/canada1.html

posted by Jill at 5:45 p.m. on Wednesday, May 14

Well, we've made it as far as Williams Lake, British Colombia. not that most anyone reading this knows where this is but i thought you might like to know where we are. it's been a great two weeks of travelling. we've seen 4 bears already. we've had great weather and done a whole lot of biking. i was a bit concerned that the bikes would just be taking up space and we wouldn't even use them all that much but we've pretty much gone for a ride every day. gas has been really expensive so we're talking now of maybe working on a fishing boat or something for a week or two once we get up to alaska but we're making much better timing than i expected so this won't even cut into our "alaska time." as far as what we're actually going to do when we get to alaska, don't really know??? planning more of the same. hiking, biking, fishing, and relaxing.

totals for the trip so far:

fish caught: 10

flat tires: 0

quarts of oil burnt or leaked by the van: 4

rainy days: 2

snowy days: 1

bears: 4

pulled over by cops: 0!!! (we did just go through a police checkpoint today but it was quick and clean).

frustrating problems with laptop computers and cell phones: about 20.

we're really working on getting a consistent internet connection through the cell phone but not much luck so far. keep checking though because if we get this thing working just right we're going to be writing everyday and posting pictures every week or so.

posted by Geoff at 4:31 PM on Wednesday, May 14