Today, the morning came before the sun. We crawled out of bed under a
sky still awash in stars, and set out on the road as red dawn broke over
silhouetted cliffs. In the quiet of 7 a.m., the miles rushed gradually
downhill in a dream. No cars, no trucks, no wind - just the whir of
wheels spinning on smooth pavement, muffled by the vast echo of the canyon.

We planned to camp on Lake Powell today, the lowest elevation of our
entire trip. So we weren't too pressed for time. We stopped for
breakfast at 9 a.m., knowing our day would be over by noon. Then we
would have a swim and an long nap on the shores of the desert reservoir.

So, naturally, the sight of current rushing beneath the bridge just past
Hite Marina came as a surprise. Something we had not taken into account
was the four years of extreme statewide drought that preceded our trip.
Since most of Utah's water eventually drains into Powell, a four-year
water shortage had dropped the reservoir's level over 80 feet, reducing
the lake to a thin puddle in Glen Canyon Gorge - and where we stood,
nothing was left but the Colorado River.

Geoff was ecstatic- he's a river rat by nature and loves the wildness of
free-flowing water. Lake Powell essentially buries the West's wildest
river, and so Geoff stood on the bridge for several minutes marveling
over the muddy expanse of exposed lake bottom and the swift flow of the
only water in this "lake." I look ahead at the shoreline where we had
planned to camp - which sat over 50 feet above the waterline.

"We can't camp there," Geoff told me. The now-closed campground sat
exposed on a barren face of solid sandstone more than a mile from the
nearest beach. There were no trees for shade, no source of water, and no
incentive to spend the rest of the afternoon there. So we pressed on.
However, since we had planned for an easy day, I quickly began to resent
the extreme climb that led us out of Glen Canyon.

Once we hit an 11 percent grade I found myself walking my bike along the
road for the first time on the trip. A photographer parked at the top of
the road laughed at me and told me I made a great addition to his picture.
How humiliating.

"Next place we can camp, we should," I told Geoff, and the next time I
saw him was after we had already climbed over the canyon wall and
dropped again. He had pulled off the highway and was pushing through the
brush toward a solitary cottonwood tree less than 100 meters away from
the road. "We'll camp here," he told me, and I figured we were in for a
long afternoon.

We set up a tarp and sprawled out beneath the spotty shade. I could
still hear cars on the road, however, surprisingly few went by. Thin
storm clouds rolled by and if I closed my eyes I could almost imagine
myself deep in the wilderness.

There's a subtle art to camping in a ditch; and we've had to camp in
more than one. Since you're parked in an unlikely spot right next to the
highway, you have to get around all the aspects of unconventional
camping.

The first problem to overcome - cars. Sure they're loud and their
headlights will blind you, but I like to think of them as my escape
route should I have an accident such as an entanglement with a rabid
coyote.

Second is lack of amenities - not so much a problem in the wilderness,
but in plain sight of the road the absence of a bathroom can be
annoying. This particular camp site had a great big rock - which made
both a warm sunning perch and good cover. Most ditches have at least
bushes, and with a little creativity anyone can disappear behind a two
foot bush.

Third is water. We had looked forward all week to taking a bath in Lake
Powell, so Geoff set out to find our camp site's source of water. Behind
a wall of tamarisk bushes we found a shallow trickle of a stream. Its
largest pools were no more than six inches deep, and so stagnant that
the slightest disturbance would kick up a cloud of dust. With extremely
slight movements, Geoff managed to wash his entire body in that puddle.
It took him well over an hour, but he did come out clean and happy. When
camping in a ditch, patience is key.

Fourth is location. Thanks to the wonders of public ownership, we can
park anywhere we please on BLM land. But what to do when you come across
miles of private land? I've found that highway underpasses make good
hobo homes, and few will complain if you camp on the highway
right-of-way. Stopping right on private property will probably get you
to the nicest spots, but often at the expense of staying incognito.

Finally, there's no shame in camping in a ditch. Better to stop and
enjoy a relaxing evening than press the limits of energy and darkness
trying to make it those last 20 miles to the nearest campground / hotel.
The best aspect of bicycle touring is the slowness of it. Everything
about bicycle travel completely contradicts the American trend of speed
traveling - you know, the people who "visit" ten national parks into
five days and spend most of their time driving. You've set out to truly
soak in the scenery. Don't squander it trying to get from Point A to
Point B. Stop. Sit back. Relax.
The Art of Camping in a Ditch
When there's nowhere to go, make the most of where you stay, Day 11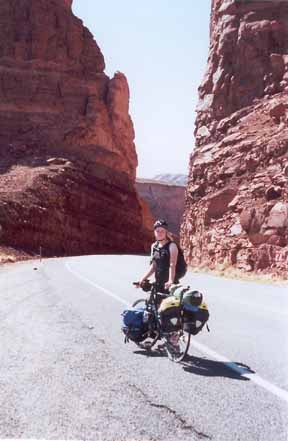 Day Eleven: Pause after Lake Powell crossing; 47 miles; sunny and warm; September 23, 2002. Just around the corner is an 11 % grade climb out of the canyon.