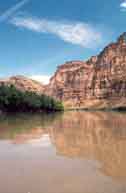 I found excitement and novelty in doing Ladore for my first time; solitude and surprise and much comfort on the Uinta Basin; companionship and excitement with running whitewater in the canoe in Desolation Canyon; love and beauty in the form of Jill in Green River for 2 days; intimate and comforting friendship in Nykole and Bryan on Labyrinth; steady and comforting presence of Chris and Jen the whole way through; and now we're letting Cataract Canyon form it's own place in this adventure.

So far heat is the most noticeable of Cataract Canyon's traits. Real heat we had not known until these last 2 days. Most of our trip has involved cyclic weather with cool, damp, windy weather moving through at least once a week. Suddenly though you can just feel that this heat is here to stay. From here on out it's swimming every 20 or 30 minutes and huddling under the shade shelter throughout the afternoon. Camp quality becomes based entirely on shade and mornings become the worst. I find myself just wanting another hour of cool air no matter what time the sun comes back to us in the morning. Today it was 8:20 and I just wanted it to hold off until 9:20. Yesterday morning I was in sun by 7:00 and at that time all I expected was that it could just hold off until 8:00. Tonight I find myself set up for sleep at the foot of one of the tallest Tamarisks I've ever seen, just hoping that I've guessed right in thinking that the sun's going to rise directly on the other side of this giant shrub.

6-23-02: Day 45
And now we have arrived at day 45, the last of this trip. Cataract Canyon went well – very intriguing rapids at even this low of a level (about 2700 cfs) – and now we float along in the current of the reservoir. The drought has struck so deep that now as we sit here some 5 or 6 miles past Dark Canyon the "river" pushes on with as much or more force as anywhere above. I look across to the other shore and see the high water mark on the rocks some 40 or 50 feet above the current water level. Where I sit now was as recently as a few years ago, buried completely underwater by some 25 feet! And so the float from Cataract Canyon to Hite Marina becomes a very easy one, with strong current the pushing us homeward the entire way.

Reflecting back on this trip for a bit I have a hard time not getting confused. Much of me simply begins to look forward. I try to think of this trip and sometimes can think only of going home and seeing Jill and going back to work for a rest before the other adventures coming up this summer and fall.

Then though are the times when I'm really able to reflect. Memories of the past 45 days flow through my mind as swiftly and surprisingly as the current here at Mille Crag Bend. Launching up at Flaming gorge seems like a year and a million miles away and yet it seems like only yesterday that Chris, Jen, and I were camped out illegally on a wildlife refuge somewhere in the north east corner of Utah or the north west corner of Colorado, doing our best to simply ignore the park ranger on the other shore flashing his lights and honking his horn obnoxiously.

And now with the warmth of the southern desert in late June the belief that Flaming Gorge to Jensen ever existed seems almost impossible. And somewhere in there was Ladore. Weaving through rocks and dealing with the cold spells but all the while enjoying the constant rapids and the constant beautiful campsites. Ladore is a trip for the senses more than any other. Beautiful sights, sounds, and smells surrounding you throughout the canyon, a canyon which amazingly leads to the 100+ miles of the Uinta Basin.

On Uinta Basin we found nothing of the grandeur of Ladore, but instead a much less beautiful but infinitely more relaxing experience. Full days to get lost in thought until finally we came to find something in this, and then for me the beauty returned and my sense were running on full speed again just in time for the walls to rise and the waters to speed into Desolation Canyon.

Memories in Desolation Canyon are of a party if there ever was one on this trip. A party with such highlights as "ring toss" at Rock Creek Ranch, canoeing Wire Fence (2nd half upside down) with Nykole, and the constant excitement and liveliness of suddenly having so many people around who were so excited to be around.

From Green River on things just kept forming and finding a deeper comfort zone. The two days in Green River was defined by confusion and discomfort but then the weather broke at Crystal Geyser and by the time we reached Trin-Alcove Bend 2 days later we had found this comfort which only grew stronger as the final days of the trip wound down. We floated on into Cataract Canyon together, Bryan, Nykole, and I on my boat and Jen, Sara, and Gretchen with Chris on his boat. We ran the rapids together and built up even more comfort through excitement. And now the float off the reservoir allows me to think back to all of this.

I felt convinced a few days ago that I would not ever again want to do this trip – not that I hadn't enjoyed it but just that it wouldn't likely be something I would ever do again. Now though on the dawn of the last day I almost feel a need to do it again, a strong desire to create new and likely completely different memories of what this trip was and how the different sections made me feel. The likelihood that I ever do this trip in full again is probably pretty low but I feel entirely confident that I could do it again and enjoy it just as much as I enjoyed it this time. Now though the sun is about to join us and I shall begin to saver the last morning of cooking breakfast, packing up, and floating quietly along. Such a great feeling it is to finish this trip the same way we spent most of our days: floating along (not rowing) 8 or 10 miles completely relaxed and carefree, letting the river alone dictate our pace.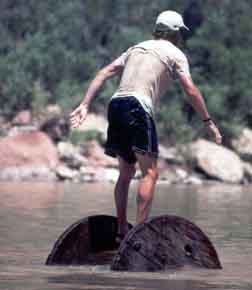 6-18-02: Day 40
Day 40 and it's become clear that 45 days will be enough time for this trip. I'm content with the thought of 5 more days on the river but I'm also content with feeling that this will give me closure and I will not wish for several more days as I did at the end of our 21 day trip last summer. I had a feeling of emptiness and unfulfillment as we headed for home last year, but I really feel now as though I will be going home on Sunday with a feeling of taking with me everything I could have hoped for on this trip.