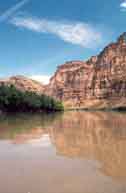 Flaming Gorge to Gates of Lodore:
5-10-02: Day One
Day 1 of 45 days on the river! After a long drive and a cold night sleeping on the side of the road in a parking area just below Flaming Gorge Dam it feels so nice to finally be on the river, even though it's much colder than I ever hoped any day of this entire trip would be. Just getting on the river proved to be much more difficult than we thought. It turns out that launching a large heavy boat at The Spillway Boat Ramp just below Flaming Gorge is pretty much impossible. The road down to the river is so narrow and the launch area so small that they only let people by with boats that are ready to launch immediately. First we tried to explain to the women at the booth that this was an impossible rule for people with 350 pound boats and no trailer to adhere to and that she should just make an exception for us because their rule sucked. Once this got us nowhere we tried yelling this to the women with some vulgarity mixed in but this got us even less. At least when we were being nice about it she didn't tell us to please turn around and leave immediately. After leaving immediately we pulled off the road to figure out our options. Just thinking about trying to inflate our boats and lift them up on top of the truck made my shoulders sore so we went with our other option of driving 7 miles down river to Little Hole boat ramp.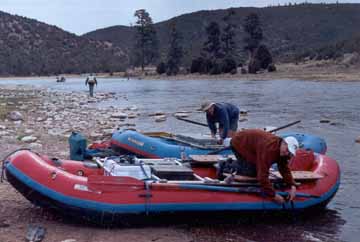 We had much better luck making our way past the women in the booth here and within a couple hours we were floating down river amidst a crowd of fisherman. I had fun watching the fishermen watch us. Most of them were so focused on their task at hand that they didn't even notice that we weren't here for fishing. Many noticed though, mostly just staring at us for a bit longer than normal as we floated by. It became quickly very clear that we are on the fisherman's river here, not yet to the river runner's river.
We're doing our best to fit in by casting our poles from side to side every now and then but without a valid state fishing license I find myself being a bit timid about fishing. Chris did actually catch a couple nice trout which we'll cooking up for dinner tonight. A few fisherman did talk to us while we were rigging our boats at the launch and when Chris answered their question, "how far are you going" with a casual reply of: "Lake Powell" they just kind of stared back at us for a bit as if they were waiting for us to laugh so they knew we were joking. We never laughed and thus they never really quite believed us. Just before stopping for lunch we made our way through Red Creek Rapid. Small rapid but just big enough to keep the fisherman behind us. We're pretty much on our own now and from here to Hite Marina we can count the times in which we'll pass through areas of civilization on one hand. So we have one day on the river behind us now. We only covered about 8 miles today but it seems to me like this was a pretty good start. I am definitely far from being settled in to things right now but I can begin to feel how easy this is going to be to settle into once the weather warms up a bit and once we get a few more days down the river.
5-12-02: Day Three
Rain and cold. It's mid May now and this is Utah. Why can't it just get warmer. Today actually wasn't too bad but yesterday was rainy and in the 40's the entire day. The weather has made it really hard for me to actually build up the excitement that I figured I would have by now for this trip. We're camping tonight at the Ladore ranger station and I find myself thinking more of getting a ride out of here on the road and heading home than I do of getting on the boats in the morning and entering The Gates of Ladore. I'm of course heading down the river and not out the road but I feel pretty depressed right now about how much more exciting the road seems than the river. I've been wanting to do this trip for over 2 years now and here I am 3 days into it and I want to abort. I keep trying to tell myself that it's just the weather but I really hope I'm right.