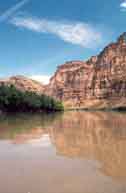 Desolation and Gray Canyons:
5-30-02: Day 21
Well, 5 more days down the river (21 total now and 196 miles) and we have been joined by the others. Very nice to have some more friends along and to have my canoe and to have all this time on the river just gliding slowly forward. So spontaneous, so relaxing, such a good place to be. And I've just figured a rough estimate of this entire trip costing us about $450.00! I can pay for the entire journey with 4 or 5 days of work when I get back. I maybe we should just not go back.

This is the way I've really begun to feel these past few days. I really just want to slip more and more into this groove and just remain lost here for good. The variety of new people joining us is great and the changes in the weather and the character of the river are very comforting, but the lifestyle could remain the same for me for a very long time without me getting sick of it. I really don't know if I ever would.

And just as nice as it was to be with just Jen and Chris for so long it is also so nice to have some new people with us. It makes for a much livelier camp in the evening. Tonight is our second night with Monika, Nykole, April, and Bryan and there has been a noticeable change for sure. It's not so noticeable during the day but as soon as the sun goes down and we settle in for the night the change becomes apparent.

On the Uinta Basin we would just build a small fire, pick up or books or our notebooks and lose ourselves within our own minds. Tonight though we built a much larger fire, passed around a bottle of wine, and let the fun begin. Before too long Chris, Bryan, and I were in my canoe, pretty well drunk, floating through the small riffle that we are camped at. We didn't last for too long though. At first the water didn't seem too cold but after we swam the boat to shore and dragged it back to camp a frigid chill set in for several minutes. Some more wood on the fire and some more wine took care of this though and quickly we were back at the fun of gymnastics in the sand. Wrestling, headstands, handstands, front flips, cartwheels… pretty much whatever we could think to attempt.

And now the fun has wound down and we're all off to bed, hoping to not be too sore come
morning...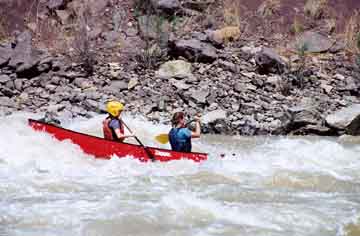 6-3-02: Day 25
Camping tonight at "Cow Swim." This is our third Deso. Trip in a row in which we've camped here and we've spent some time playing in the rapids in front of camp all three times. The highlight of today's playing had to be April and Monika taking my canoe through "Cow Swim" pretty near as smooth as could be. They started out completely backward but as they neared the rapid they got straight and hit it perfect. Pretty fun to watch and pretty impressive considering that neither of them had really ever been in a canoe until last week.
6-4-02: Day 26
Well, today we tackled the largest rapids of Desolation Canyon (Wire Fence and Three Fords) at this level. After a nearly perfect run 2/3 of the way through Wire Fence Nykole and I had a fun capsize in the canoe. We got a little sideways and took on too much water through a large wave and that was that. I then ran Three Fords on my own and ended up skirting around the entire rapid. This wasn't by design but I just kind of got too far left on the river and just couldn't get back into the middle where some of the more challenging stuff was. Fun stuff though. Probably the most fun that I've had in any rapids yet on this trip.

So we have been at this for 24 days, covering just over 250 miles and now the heat has finally begun to set in. Today was easily the hottest of our entire trip to date and from here out it only seems like it can get hotter. At times I feel like the heat isn't going to bother me too much because I've had a chance to ease into it throughout the trip but then I have moments like I had when we were arriving at camp today where the heat just feels like more than I can deal with. Walking up from the river to see if we wanted to camp at the spot we had chosen I felt like I was walking into a huge oven. Right beside the river things weren't too bad but as I ventured further and further away the heat just sucked the life more and more out of me. I sat down on a rock in the shade and thought of nothing other than the pounding sun and of how nice it will be when it goes down for the night.

The sun has gone down now though but this is one of those real hot spells in the desert when sunset doesn't even ease the stress of the heat. In a weird way it almost feels hotter now than it did 4 hours ago in the heat of the shining sun. Certainly it's cooler now, but mentally it feels harder to deal with. It's just not supposed to be this hot at 10:00 pm and I'm having a hard time right now accepting that it actually is.


6-7-02: Day 29
We are now back into civilization here for a bit. We drove into Green River today for some burgers, pizza, shakes, and fries at Ray's and are camping tonight with the masses of vacationers here at Swasey's Rapid Campground. It's pretty strange to be out of the wilds of Desolation and Gray Canyons and back into the everyday life of local Green River residents. Not that Green River is your standard run of the mill fast-paced American town, but it is more in tune with the modern world than what we've been living for the past few weeks. A change that I think I'll be glad is only going to be with us for another day or two. From here we'll float down to Green River State Park, but when we leave there a day or two later we'll be back into the wilds for the remainder of our trip.
For now I plan to enjoy our time here in town but I look forward to getting back into the depths of the canyon and back into the rapids of Cataract Canyon to finish out our trip.
6-2-02: Day 24
A few more days have now passed. I find it a lot harder to stick to writing something everyday with all the excitement of the rapids and of so many people amongst us. We haven't done any large rapids yet but for canoeing most of this for my first time they all start to seem pretty big. Bryan and I had a fun run through Steer Ridge Rapid yesterday and continued on down to Rock Creek where we have been camping for the past 24 hours. A stiff storm has moved in so we've decided to stay for a second night at this comfortable camp spot. I caught some nice trout which we'll cook up tonight for dinner along with some catfish we've been saving up since last night. I'm excited for the trout but maybe not as much so for the catfish. We'll see...